Series 1
Two Protoytpes built at Hatfield, UK. 43 ft 6 in (13.26 m) long, 44 ft (13.41 m) span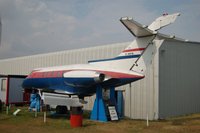 First production aircraft built at Chester, UK powered by 3,000 lbf (13 kN) Viper 20 or 520 engines. 47 ft 5 in (14.56 m) long with a 47 ft (14.33 m) span. Addition of a 'cap' above the cockpit.
Series 1A/1B
Series 1 aircraft with Bristol Siddeley Viper 521 engines with 3,100 lbf (14 kN) of thrust each.
Series 1A for US FAA certification, Series 1B for sale in the rest of the world.
Series 1A-522 and 1B-522 have Viper 522 engines.
Series 1A-R522 and 1B-R522 have additional long-range fuel tanks, modified flaps and main landing gear doors.
Series 1A-S522 and 1B-S522 - Two aircraft were structural modified to Series 3 standard.
Series 2
RAF navigation trainer with Rolls-Royce Viper 301 engines. Known as the Dominie T.1
Series 3
Viper 522-powered variant with increased weights.
Series 3A/R and 3B/R - early aircraft modified to the series 3 standard but without a change in maximum landing weight or maximum operating altitude.
Series 3A/RA and 3B/RA - Series 1A/B aircraft modified to Series 3 standard with structural changes for increased maximum zero fuel weight and maximum rampweight.
Series 3B/RB - variant of the 3B/RA with increased maximum ramp weight and maximum take off weight.
Series 3B/RC - variant of the 3B/RA modified as a navigation aid checker with four-seat cabin configuration and addition of avionic and flight inspection equipment.
An F before the series (i.e. F3B, F3B/RA shows that the aircraft has been re-engined
Series 400
Series 400A and 400B - increased maximum ramp and brake-release weights and addition of a outward-opening main entry door.
Series 401B - Increased maximum take off and zero fuel weights and allteration to cabin loading.
Series 403B - Increased maximum take off, zero fuel and ramp weights, alteration to cabin loading.
HS.125 CC1 - British military designation for a series 400 liaison aircraft for the Royal Air Force
In the United States the aircraft was marketed as the Beechcraft Hawker BH.125 from 1970.
Series 600
3 ft 1in fuselage stretch to increase capacity to 14 and changed to Viper 601-22 engines giving increased weights and operating speeds.Also increased fuel capacity including an additional tank in the dorsal fairing, revised aileron tab arrangements and aileron control gearing and improved aerodynamics.
The aircraft was marked as the Beechcraft Hawker BH.125 in the USA.
Re-engined examples are designated F600B
The RAF designated their liaison version of the 600, the CC2.
Series 700
Series 700A and 700B have Honeywell TFE731-3RH turbofan engines with 3,720 lbf (16.5 kN) of thrust, first flight 19 June 1976.
The RAF liaison version of the Series 700 was designated the CC3 and a maritine patrol version was available which had the additional name of Protector.
BAe 125 CC3 - British military designation for Series 700 liaison aircraft for the Royal Air Force.
Series 800
Increased wingspan, streamlined nose, tailfin extension, increased fuel capacity, first corporate jet to feature an EFIS cockpit, upgraded engines. From 1993 became the Hawker 800.
United States designated their combat flight inspection and navigation mission aircraft the C-19A. Participated in Operation Desert Shield and Operation Desert Storm during the First Gulf War.
Japanese Air Self Defence Force versions are designated U-125. These aircraft are similar to the C-29A. The Search and Rescue version is U-125A and are equipped with the APS-134LW radar system.
Series 800XP
TFE731-5BR1H turbofan engines with 4,660 lbf (20.7 kN) of thrust each
Series 800XPi
Series 800XP with manufactured with new interiors, improved avionics suite and a cabin management system.
Series 800SP
800A/B with retro fitted Aviation Partners winglets
Series 800XP2
800XP with retro fitted Aviation Partners winglets
Series 850XP
800XP with factory installed winglets and interior updates
Series 900XP
850XP with Honeywell TFE731-50R engines (increased hot/high performance and longer range. Modifications to the avionics.
Series 750
800XP with a lightweight interior and externally accessible heated baggage compartment in place of the ventral fuel tank. Optional winglets.
Series 1000
2ft 9in fuselage stretch, seating 15 people. Increased fuel capacity. Pratt & Whitney Canada PW-305 turbofans with 5,200 lbf (23 kN) thrust each.
Became the Hawker 1000 after 1994